Whether you are considering a new work platform, loading platform, or an OSHA required crossover metal stairs unit,

 

there are better options than calling a custom fabricator.

 
It would be best if you considered that:
You do not want to compromise worker safety by implementing something unsteady.

You want to meet all OSHA requirements for inspection or reinspection purposes.

You want to plan for possible expansion or plant reconfiguration by building vertically or outward. (Take advantage of overhead space)

You want something that will last and meet safety requirements for years while still looking great.

You want the absolute best product for your plant or workspace.

You need installation measured in a few hours or days with minimal or no production shutdown.
The modular five-piece ErectaStep system has become the best choice in the market for many reasons for thousands of satisfied project managers and safety engineers. 
Consider that the ErectaStep components are designed and configured around your needs.  Many other metal stair products come as-is.  Your needs have to be adapted to a non-configurable subpar product.  ErectaStep modular components can accommodate any industrial stair configuration needs. 
ErectaStep takes a better approach and implements solutions to your company's unique needs.  If you have a piece of equipment that needs to be accessed frequently for standard maintenance, calibration,  repair or cleaning an Erectastep work platform with aluminum stairs can be configured easily around the mechanism so all the access work points can be entered safely by one or multiple workers. 
Your workers are more confident on a stable, robust platform that handles the weight of them and the additional equipment or tools needed for the job.  They can work standing, kneeling, or even in a prone position as required.
Types of metal Stairs
---
Here is how the ErectaStep System can serve your company today:
ACCESSING EQUIPMENT
ErectaStep has helped companies install metal stair platforms around any shaped work requirement.  We have helped establish solid stair or ladder work platforms for flatbed trailers that need two-sided access.
We work around storage tanks that need monitoring, and easy access for valve shutoff and flow re-direction points for processing plants.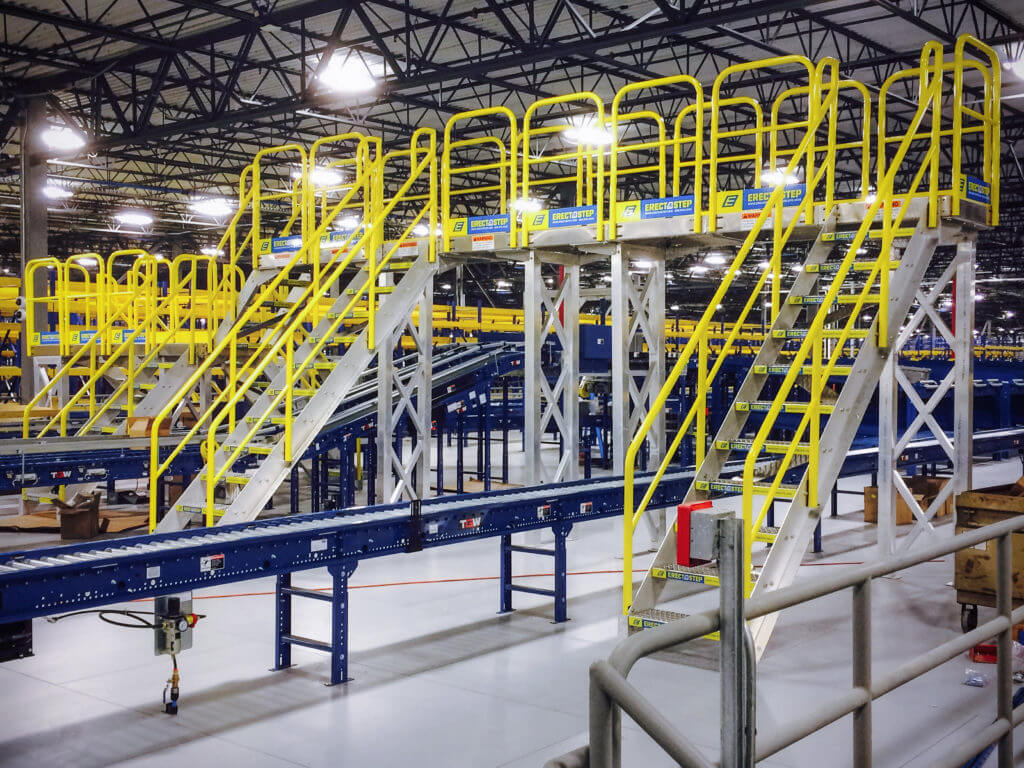 We work with prototype projects that require multi-level work points, OSHA required crossovers of electrical, pipeline, and production lines, fuel loading and unloading depots, and many other applications.
Anywhere a worker has to have safe, sure trustworthy access to a job Erectastep is the install a state-of-the-art metal ladder or stair system that meets safety requirements, that looks great and will last for years.  If you have old scaffolding in place or a simple portable ladder, it is time to consider a modern safety solution.
CROSSOVER ALUMINUM STAIRS
Areas in plants and other job sites that do not have installed crossovers are a constant source of injuries that OSHA looks for.   Workers will often duck under a production line if a crossover is not present.  Ducking under a line can result in worker injury, production stoppage, and lost time.  Crossovers are needed to get over ground level pipes, electrical conduits, and other trip hazards.  Offering your workers a crossover point makes it clear that the way to address an obstacle is to go over it safely.  Save lost time due to injury, and production line downtime by planning and installing multiple production line crossover metal stairs.  ErectaStep's quality components are OSHA compliant right out of the carton, and simple crossovers can be constructed in mere hours.  Putting the best possible crossover in place affords you instant OSHA compliance and a proactive peace of mind.  Whether replacing an older crossover or installing a new one, ErectaStep makes sense.
FUEL TANK FARMS
If your site is a fuel tank facility or a refinery, you know that there is an incredible need for crossover points.  Ground level and elevated pipes circulate through the whole yard creating many areas where safe crossovers should be installed.  Weather comes into play where snow and ice can be a factor.  These are dangerous situations for workers.  The non-slip diamond pattern galvanized stairs meet all the OSHA requirements for width and depth, and they clean with ease when icing occurs.  Solid handrails, gates, and guardrails ensure confident, safe crossovers.  There is no stretching and bending over multiple pipes to get to a flow control mechanism or an inspection point. 
At fuel tank farms, reliable crossovers are an investment in safety and a great proactive endeavor against lost time due to workplace injury.   It is always better to crossover a series of pipes than to duck under or contort over.  Invest in peace of mind by analyzing old crossover systems and implementing the modern solution made by ErectaStep.  You will gain OSHA compliance and peace of mind knowing that you installed the best and are backed up by a company that cares about your workers.
IMPLEMENTATION
Safety Engineers and project managers can design and implement, stair systems, ladder systems, and work platforms for any use by configuring the five pieces that the Erectastep system is comprised of.
Industrial Grade Towering Supports that can be installed for any height and length.

Weight-bearing nonslip metal platforms can be installed to any length and width. Three platforms can bolt together in series without additional tower support.

 

High-grade tower supports and cross bracing is added after every three platforms in series.

 

There is no limit on length.

OSHA Compliant Non-Slip Metal Stairs. (Compliant for length, depth, and weight-bearing) Configurable to any height.

Solid heavyweight aluminum handrails and gates are powder coated in ANSII yellow that resists the elements and looks good for many years.

ErectaStep provides industrial-grade safety laddering for any height that meets OSHA requirements.

 

You can get to any height that your project requires by using any combination of stairs, ladders, and platforms.

 

The platforms are reliable, rigid, and safe at any level.
Most configurations can be put in place in hours using only three workers using a minimal amount of tools.
OSHA-COMPLIANT METAL STAIRS SYSTEM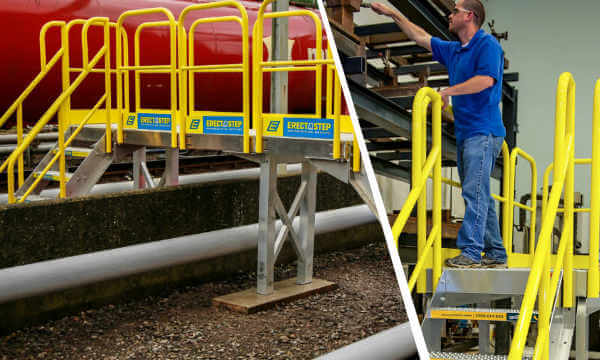 The OSHA compliant fall protection and easy worker access are unparalleled by any other platform on the market, and ErectaStep does not require drilling, welding, or cutting.  A modular system addresses fall protection in the best possible way in the least amount of time.
The simple components bolt together easily with a single wrench in any configuration that you need.  Installation time is measured in a day or two rather than weeks, depending on what you need.  You put in place your custom design.  It's almost like assembling Lego bricks to address your needs.
Acting proactively by taking steps to address workplace safety is always a right call, and implementing the best possible products is an excellent step in the constant fight against accidental falls, trips, and slippage.   
---
Do You Need IBC or OSHA Metal Stairs?
To determine if you need IBC or OSHA we will first need to determine what your local building code requires. There are typically more strict standards for areas that are open to the public than areas that are utilized only by employees or relatively low traffic areas. As a rule of thumb, the International Building Code (IBC) regulates any set of stairs used by the public, including any stairway that connects a building to a public space. These regulations must account for the safety of every type of person — including children and the elderly.
Many businesses have private facilities where stairs are not for public use. They can include areas like factory floors and manufacturing spaces where only designated employees work. Therefore, they are not typically bound by the IBC. Instead, the Occupational Safety and Health Administration's (OSHA) Fixed Industrial Stair regulations (1910.24) govern the design, construction and use of both interior and exterior stairs used to access equipment, machinery, tanks, elevated platforms, other floors or pits.

Learn more about the difference between IBC and OSHA compliance
---
The benefits of using Erectastep are measurable.  With ErectaStep components, you get immediate OSHA Code 1910 compliance right out of the carton.  This benefit is perfect for addressing noted safety concerns before an OSHA inspection or reinspection.  Stay compliant with Erectastep.
With the  ErectaStep system, you are addressing falls, slips, and trips before they happen. Other benefits of our state of the art applications include…
increased worker productivity, created by the ease of access and stability. 

Stair components that are pre-engineered to address any configuration which eliminates the need for very expensive custom fabrication. 

Easy to assemble components that can be put together in hours to your exact specifications. 

Installations that can be expanded either vertically or horizontally or moved as the needs of your company change. It is as simple as unbolting the platforms. 

Because there is no welding or cranes involved with ErectaStep installation, you save company time and money. 

All of our components are in stock and ready for shipment.

 

Your project is total "Plan and Go" with ErectaStep support firmly with you.
Each component is proudly manufactured and inspected in the USA.
A QUICK COMPARISON
Rolling Stairs – There are rolling stairs on the market.

 

There are a time and place for rolling metal stairs, but an installed stair or ladder system where constant work is required is most often the absolute best solution for OSHA compliance.

 

Summary:

 

A great installation will last for years and provide peace of mind.
Elevated Access and Mezzanine Access – This is no area for a cheap shortcut.

 

Reaching the highest points on your site should be done with ease, confidence, and safety.

 

Adding an "as is" manufactured solution is in most cases a shortcut with worker safety.

 

With Erectastep OSHA compliant safety standards are right out of the box.

 

Think about what an OSHA inspector has to do to scale a height quickly.
Don't Settle for Subpar Materials – Using products made from subpar materials can lead to a rapid decline in functionality, material fractures, and eventual falls.

 

With Erectastep you won't have to replace it anytime soon because the industrial-grade aluminum adjusted to your sites weight requirements is necessary.

 

Accommodating multiple workers, tools, and equipment is part of a custom installation and is configured into the process.
You are buying the best product and will be addressed with respect and professionalism.  If we don't have an immediate answer to your question, we will find the right person to address any question that you may have as quickly as possible.
---
Metal Stair Parts – Elements that make up a stair unit or staircase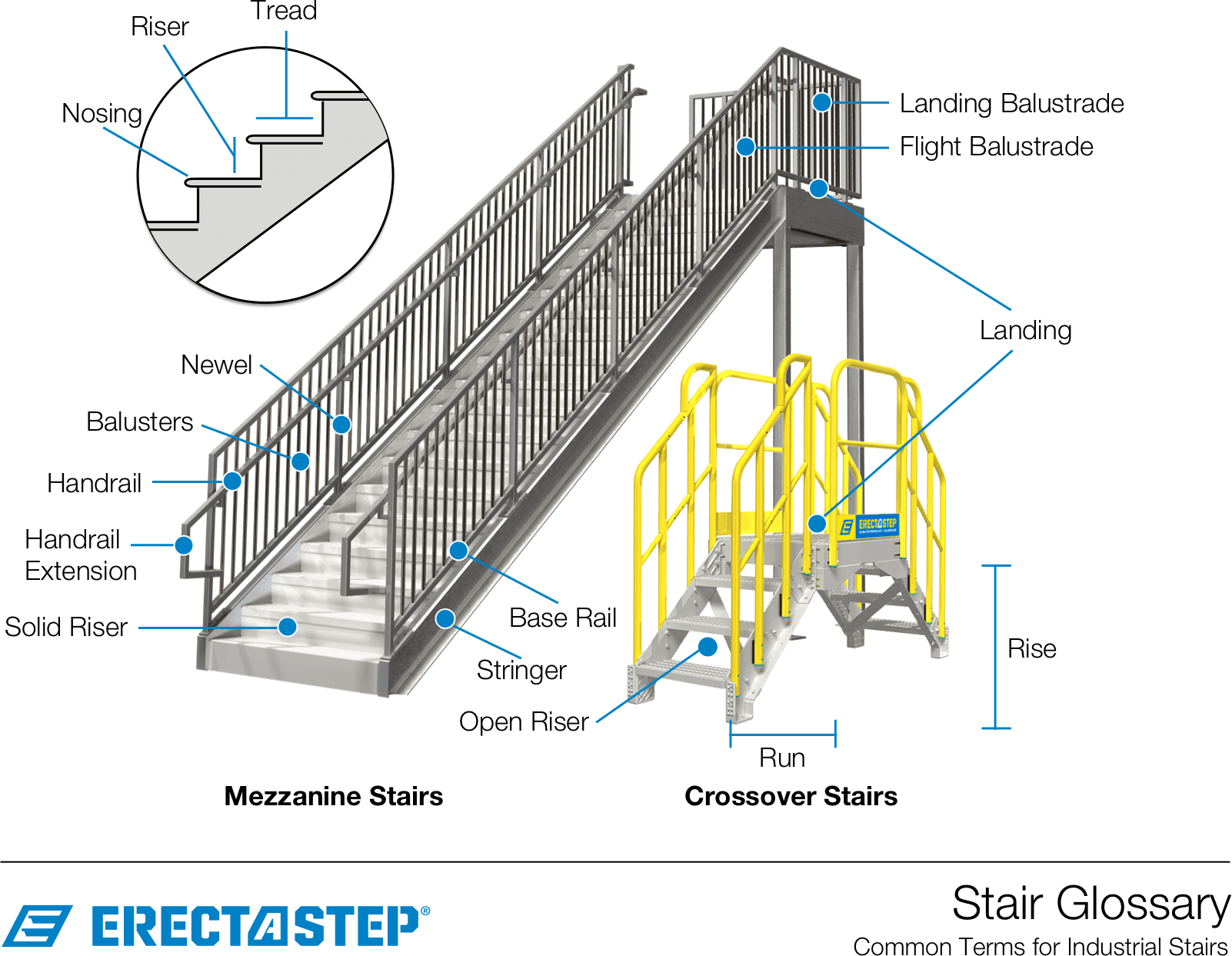 Handrails
Fixed stairs having four or more risers shall have stair railings or handrails complying with 1917.112(c)(1).
Railing height from tread surface at the riser face shall be 33±3 inches (83.82 cm ±7.62 cm).
Have handrails that meet the requirements of 1917.112(c)(1) on both sides and that are not less than 30 inches (76.2 cm) in height from the tread surface at the riser face.
Provide handrails on both sides of ramps, including at landings, and ensure they:

Are continuously graspable along the entire length.
Stair Risers – The vertical element between one step and the next.
An open riser has no backing and is common for industrial applications with OSHA compliance, whereas a solid riser is closed and backed with a structural element and used for commercial or residential and is IBC compliant. Open risers can be partially closed (e.g. 50 or 75% open), but are still considered open.
OSHA requires riser height to be from 6 to 7.5 inches (15.24 to 19.05 cm).
IBC requires riser heights to be 7 inches (178 mm) maximum and 4 inches (102 mm) minimum. Open risers are not permitted (504.3 Open Risers).
Stair Tread – The horizontal portion of a set of stairs on which a person walks.
The tread can be composed of wood, metal, plastic, or other materials. Stair treads can come in non-slip varieties, particularly in commercial or industrial locations.
OSHA requires a tread depth of 9.5 inches (24 cm) and a minimum width of 22 inches (56 cm) between vertical barriers.
IBC Requires Stair tread depths to be 11 inches (279 mm) minimum. Winder treads should have a minimum tread depth of 11 inches (279 mm).
Stair Nosing – The front of the stair step or tread and usually overhangs the stair riser by about 1 inch.
Newel – A central or supporting pillar of a spiral staircase, or the head or the foot post on a stairway.
Balusters – Also called spindles or stair sticks, are the vertical posts that support the rail.
Mostly used as a supportive and decorative accent in residential stairs and mainly supportive and safety in industrial settings.
OSHA requires balusters be no more than 19 inches (48 cm) apart.
IBC requires stairways to have no more than a 4" – 6" gap.
Balustrade – A section of railing composed of the handrail, newels, and balusters
Stairway landings and platforms – Landings are an area of a floor near the top or bottom of a set of steps.
A platform is an intermediate landing that is built as part of the stair between main floor levels and is typically used to allow stairs to change directions.
OSHA requires stair landings to be at least 20 inches (50.8 cm) in depth and no specific widths are specified.
IBC requires platforms be 44-inches wide in the direction of travel for occupancy of more than 50. For occupancy less than 50 people, IBC permits a 36-inch wide stairway for occupancies.
---
TAKE ADVANTAGE OF OUR EXPERIENCE
ErectaStep is a logical step for any company that needs industrial stairs, laddering, and work platforms.  When you purchase an Erectastep System, you are getting:
Quality materials

Our Experience and Guidance

Instant OSHA Compliance

Ease of Installation

The ability to expand and change.
Worker safety is a natural line in your budget to justify.  We care about your workers as much as you do and we hope that you see that.  Safety Managers that take proactive steps are worth their weight in gold to a company.  Lost time due to injury is a severe problem, and taking every measure to reduce lost time is a good step for any company.  Please take advantage of our commitment to you and our experience in the safety industry and call us today.  We can get you going. 
ErectaStep Metal Stair Installations