Construction sites are often replete with stairs or ladders that lead to the next floor. Stairways may be a standard walking surface, but they can also pose an innocuous threat when not being properly constructed and scaffolded for workers to walk up to them without slipping or tripping on anything in their way. All employers must take measures against slip, trip, and fall hazards by providing adequate protection from unstable surfaces like staircases and work platforms.
The best way to stay safe on the job is to exercise caution and keep workers' eyes peeled for any potential hazards. The February 2021 report from the Center for Construction Research and Training (CPWR) revealed that out of the 1,102 estimated construction-related injuries in 2019, 401 fatal injuries resulted from falls. 61% of fatal falls in construction occurred from small businesses with fewer than ten employees from 2011 to 2015. The statistics make sense because small businesses often hire less-experienced construction workers who don't have much experience in safety when working with roofs, scaffolds, ladders, or stairs yet.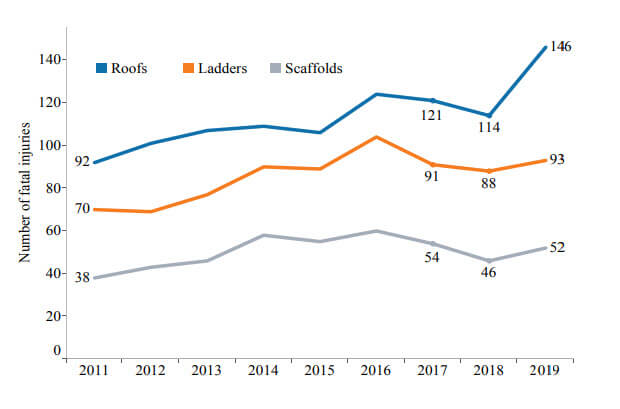 Falls are the leading cause of death among all industries and account for more than one-quarter (33.5%) of all construction worker deaths. In addition to being deadly, falls can also result in disabling injuries such as fractures or head trauma, leading to lifelong disabilities.
To keep these numbers low, building owners, contractors, and workers alike need to take precautions when working at heights or near edges where there may be a risk for falling. 
One of the most important safety rules is always to use handrails when going up or downstairs. The Occupational Safety and Health Administration (OSHA) makes it mandatory for construction sites and other work areas where workers may be at risk of falling. Another thing that needs to be emphasized is to remind workers to be careful at all times. Just because it's sunny and 60 degrees outside doesn't mean it isn't slippery. It might still be icy or wet from rain the previous day. Know the difference between OSHA vs. IBC stair safety requirements.

It's also crucial to maintain cleanliness and remove any debris or liquid from stairways. Otherwise, workers might slip or tumble when leaving unnecessary encumbrances or using the stairs as storage receptacles.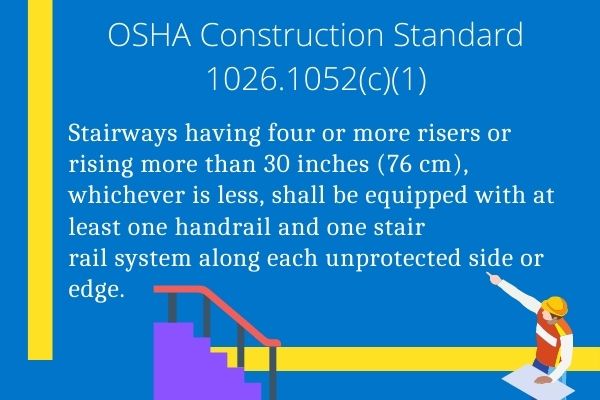 One of the critical things to educate workers when climbing stairs is not to rush. Taking their time will allow workers to have a steady pace and make sure that they don't fall and get injured in the workplace. Employers have the responsibility to guarantee that stairways are regularly maintained for employees to use. Otherwise, they might get concussions or even break a hip if a utility worker missed a small spill!
Before allowing workers to enter, ensure that the unfinished stairway is safe by setting up appropriate safety barricades. Keep in mind that they must be placed at least 10 feet from the edge of any landing or platform and should not block a required exit. Securing your stairs also involves having the required safety rails, even if it is just a temporary solution. When working on elevated platforms or stairways, workers should be aware of opening doors because they may swing and hit them.
Lastly, when walking down the stairs, there are many things to keep an eye out for to make sure that workers remain safe while doing so. One thing is looking for loose carpet or rugs, holes, spills, and grease stains on walls; these can cause a person who falls against them to slip right off their feet when they walk up next time.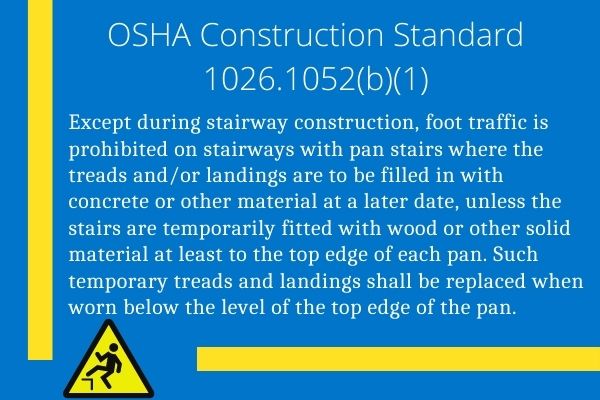 For most people, the stairwell at work breeds familiarity such that a worker might become absent-minded about safety. The majority of workplace incidents happen when employees are not paying attention and rushing to get somewhere on time. They're not watching where their footing will be as they ascend or descend stairs which can lead them straight into an accident.
Workers should not haul a load using both hands when up or down a flight the stairs. At least one arm needs to be available in case they stumble, fall or slip. Here are three tips to make sure workers carrying items up and down the stairs are safe:
When balancing a load, have the heaviest items closest to your body.

If you can't see the stairs in front of you, it's probably because of that oversized box or package in their hands blocking their full view.

Handrails are installed for safety. Employees need to be reminded to keep at least one hand free, so you can grab the railing just in case one loses their balance.
To be sure, here is our detailed guide to make sure that your stairs and ladders meet the OSHA safety standards.
Even a simple task like walking up and down the stairs can cause falls if anyone is not wary about safety protocols. Many construction sites often violate safety laws and regulations because of cost-cutting or just plain negligence. Turning a blind eye to safety measures that protect employees doing their jobs can lead to fatal accidents resulting in injuries and even death.  
Remember: safety is everybody's business. But a company that puts due consideration on workplace safety will reap more benefits than anyone would expect, including a more successful business and an overall healthier work environment. A safe workplace is one less thing you have on your plate, as improved employee wellbeing means improved morale, which will later translate into successful projects that drive sales and profitability.