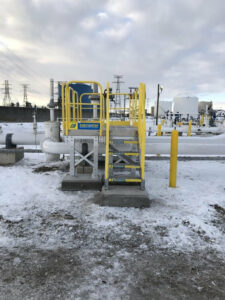 This image shows how the Buckeye Pipeline used an ErectaStep system to solve tricky space problems and improve safety in a remote location effectively. The ErectaStep system allows workers to access a flow control valve and shutoff valves with confidence safely. The ErectaStep modular system is immediately OSHA compliant thanks to constant engineering and very modern manufacturing practices. Each element in the ErectaStep system meets or exceeds OSHA standards by using industrial-grade metals that are secure, stiff, and safe for your workers.
Each stair comes with a stamped pattern that grips a worker's shoe as they go up and down. The stairs meet all the current OSHA requirements for length, depth, and weight-bearing ability. Workers can carry heavy tools and equipment, will hold firm.
The Stairs are solid blocks of shoe gripping metal that clean easily and are OSHA compliant!
The all-metal guardrails and handrails on the platform and staircases are bolted in place. This "no shortcut" step makes assembly easy and makes our modular system more solid-state. There is nothing shaky or loose, with our reliable, well-assembled systems.
The work platform is modular and can be expanded to meet any size or dimension that you need for the workspace. The individual platforms are 4 square feet of rigid non-slip metal. The platforms bolt together to go as long or as wide as you need them to go.
The base of the ErectaStep system is where the strength starts. The base legs are a heavy-duty metal that is laser welded to add stiffness and durability with minimal weld points. The connections are stronger and will withstand harsh environments.
Below the base are precast concrete pads. Creating a stable base point for any work platform or crossover metal stairs system is essential. Using precast concrete pads allow for fast installation in any tight space. You will not lose time by having to pour concrete and waiting for it to set. Precast concrete pads can be placed onto a level surface.
Precast Concrete Pads, save time, and money and are easy to install.
Setting up a high-quality system is quick and can be done with minimal labor in minimal installation time.
Once in place, pipeline flow control valves are easily accessible, and your workers are in a safer environment.
ErectaStep has been installing pipeline work platforms and OSHA compliant crossover systems for over 20 years. The ErectaStep system is easy to create and install. Erectastep can offer immediate design assistance and a price quote based on just a few simple measurements to Maintain or get immediate OSHA compliance by installing an ErectaStep system today. After you approve your order and options, it will be ready to ship. All of our items are in stock and ready to go. Call ErectaStep today!