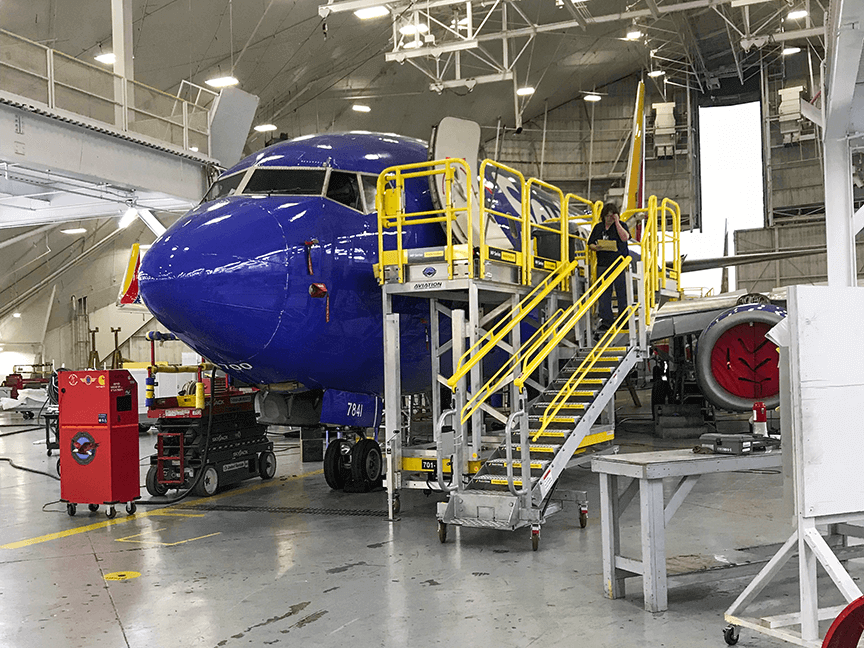 Passenger and employee safety are significant concerns for major airlines such as Southwest. Routine repairs and maintenance checks are required on all equipment to keep employees, technicians, and passengers safe at all times. Southwest Airlines had previously built their mobile work platforms in-house as the heights of their fleet are not uniform. This expensive and time-consuming option was not ideal and they were ready for customized, affordable, and permanent safety access and fall protection.
---
Southwest Airlines had seen our product in Boeing's facilities and was impressed by the quality, safety, and operator productivity our customized mobile adjustable solutions SafeRack's ErectaStep platforms afford.
---
ErectaStep reps made a site visit and met with Southwest to understand their needs and ensure a smooth process from the start. With this information, they created a customized modular solution so that technicians could easily access planes for routine maintenance. The platforms adjust in height pneumatically and are easy to maneuver, allowing operators to safely access aircraft of various sizes. Southwest tested 4 scaffolding platforms at their Kansas City location and immediately reported increased productivity and overall success after implementation. Our safety equipment doesn't just keep people safe. We help you increase productivity so that your employees spend less time gaining safe access and your facility runs smoothly.