Work Platforms Allow Proper Elbow Support in Standing Workstations
View All Industrial Stairs Installations
Custom ErectaStep work platform installation to enhance work ergonomics at a conveyor assembly line in a Sonoma winery
Ergonomics studies how people interact with their environment, so when we speak about work ergonomics — it should involve how to design task circumstances to fit the worker to enable them to work safer and more efficiently. Implementing ergonomic solutions can make employees more comfortable and increase productivity. For example, ergonomic designs can improve working ergonomics by reducing the required force to perform a task, providing support for body areas subject to heavier loads, and redistributing the load across multiple joints. In addition, ergonomic solutions can improve cognitive ergonomics by reducing the mental burden on workers and improving task clarity. Employers can create a much safer and more efficient workplace for their employees by considering ergonomics.
Workers taking up a standing posture rather than sitting when working is important to reduce the risk of lower back pain and prevent workers from experiencing discomfort or feeling "under the weather." Employees who suffer discomfort or pain doing their tasks might also miss work because of a need to rest or a doctor's appointment. In addition, compared with when sitting down during tasks that workers cannot do comfortably with arms kept next to one's side, standing allows for more movement freedom, allowing you complete control of both hands correctly (for example, using knives).
Did you know that your posture while standing can impact your productivity at work? It's true – ergonomics experts have long noted the importance of maintaining good posture while performing tasks that require repetitive motions. One way to improve your posture is to ensure that your elbows are level with the height of the conveyor when you're boxing wines. Good standing posture will help reduce strain on your back and arms and help you work more efficiently.
Here's where industrial work platforms come in, whether mobile work platforms or industrial step ladders– it brings the worker to the proper work height that's conducive to standing and movement ergonomics. Let's be honest; it's cheaper to invest in these tools than to purchase a piece of new equipment that's height-appropriate for individual workers.
Experts suggest that appropriate workstation heights differ for precision, light, and heavy work. To achieve high precision work for an employee, the recommended measurement should be around 2 inches above the elbow to enable proper support. Most manufacturing jobs require 2 to 4 inches below the elbow height, like in a conveyor belt assembly line. However, jobs that require heavy handiwork should be much lower at 8 to 16 inches below the worker's elbow, like butchering meat or at the chef's station.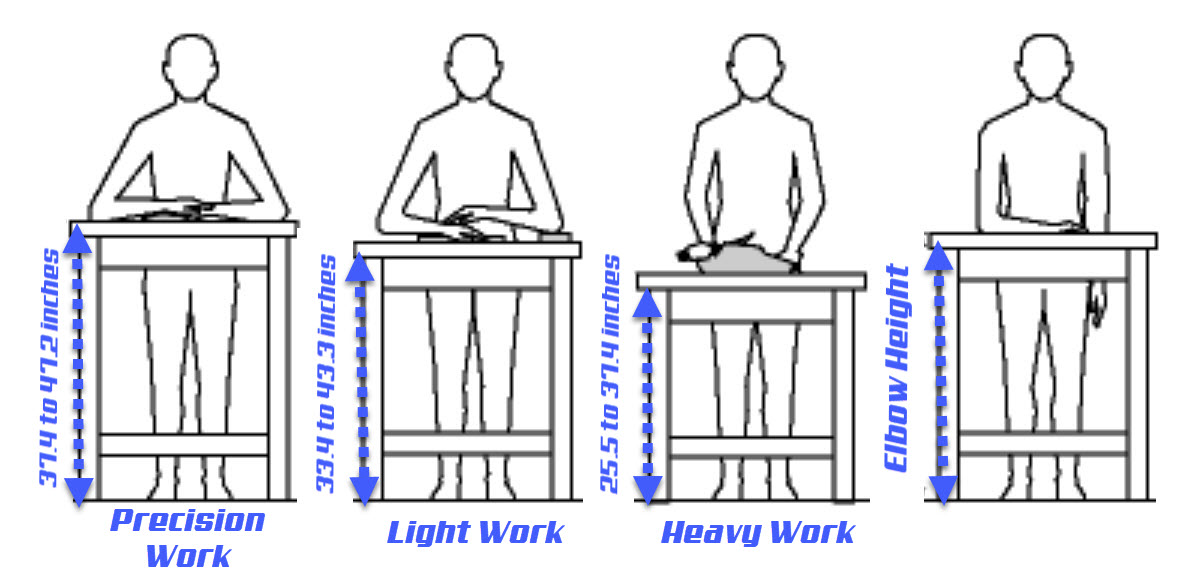 Think about all of the benefits that work platforms provide. From increased productivity to a more creative environment- there's no end! There are many good reasons to invest in work platforms for your employees. Not only will you meet OSHA requirements, but you'll also save your employees from missed work days due to back pain. Work platforms help to support employees while they're working ergonomically, which can help to prevent back pain. In addition, work platforms can also improve employee productivity by keeping them comfortable and giving them easy access to tools and materials. Investing in work platforms is a smart way to protect your employees and keep them productive. So next time you're putting workers on the job, pay attention to their posture – it will help them to get more done!