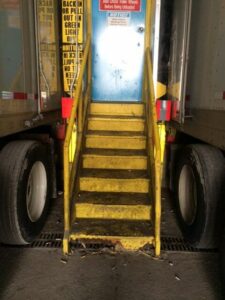 Most people know that rust is a common environmental phenomenon. Safety managers and those that use industrial safety equipment know that rust is not only a natural reaction, but it can also be a sign of imminent equipment failure.
Rust can form on iron or iron alloys, including steel. Flaky, reddish-brown rust forms on these metal surfaces once they react with oxygen and water (including air moisture) – a process called oxidation. Given sufficient time, these iron masses will convert entirely to rust. The final result of this reaction is corrosion and complete disintegration of the metal. This could lead to serious accident or injury in any industrial or manufacturing job site.
An Easy Step to Better Stairs
A leading manufacturer of loading dock equipment knows the dangers of rust all too well. They were disturbed to see that the stairs leading from the company's delivery area to a shipping office were rusting and beginning to fall apart. They needed a durable, OSHA-compliant solution that was easy to install – and they needed it quickly.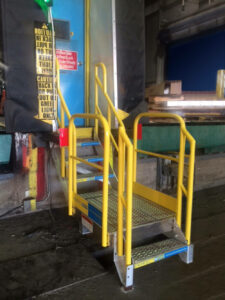 After doing their research, the manufacturer realized that ErectaStep was the only product that checked all the boxes. To begin with, all ErectaStep solutions are pre-engineered with high-grade aluminum – a metal built to withstand even the harshest elements. Unlike iron or steel, when aluminum is exposed to rust-causing rain, snow or humidity, a protective barrier of aluminum oxide forms. This layer of aluminum oxide halts any oxidation of the aluminum underneath – preventing any deterioration of the metal. When ErectaStep systems are exposed to the elements, they actually get stronger, not weaker.
The manufacturer was also thoroughly impressed with the speed of delivery and ease of installation. Because all ErectaStep components are in stock and ready to ship the same day they are ordered, businesses no longer have to wait weeks for their new stair or access solution. After one call to their local distributor – and only one day later – they had a fully designed and fully OSHA-compliant solution. The installation was completed in a matter of hours. Time is money, and the manufacturer was thrilled that ErectaStep saved them loads of both.
This manufacturer was so pleased with their new stairs that they now have plans to incorporate two more ErectaStep solutions into their facility. But what happens if they decide to expand or remodel their loading facility? The beauty of all ErectaStep systems is they can absorb growth and change just as fluidly as your business can because the five components can be expanded and reconfigured in infinite ways.
Contact an ErectaStep representative today to learn how our solutions can save your business time and money.