Few people understand the consequences of work-related injuries better than the health care professionals who treat them. Seeing firsthand the effects of jobsite slips, trips and falls makes it immediately clear that safety should always be a top priority. That's why the management at a large Springfield hospital takes every measure necessary to protect the livelihood of their employees.
Its director of facilities, Tony Salvatore, is tasked with assessing the safety of the hospital's maintenance areas. And during one of his inspections, he came across a very unsafe situation: a raised emergency generator fuel tank housed approximately four feet in the air.
The generator was located on a raised platform, so accessing it would require a climb up a set of treacherous—and certainly not OSHA-compliant—steps each and every time. And to make the situation even more dangerous, the generator and platform were located outside. Tony knew these stairs could accumulate ice during the colder months, making falls almost inevitable.
After thoroughly assessing their current method of accessing the generator's tank, Tony and his staff created a list of what they needed from a new safety system. At the top of the list was weather resistance—they wanted something that would easily withstand the rough Northeast winters. They also agreed that their new system should be cost-effective, easy to install and compliant with current safety codes. Hospital management began actively researching to find the best option that would satisfy all their requirements.
ErectaStep Checks All the Boxes
After completing their research and discussing all available safety options, Tony and his team concluded that an ErectaStep solution was the clear winner. Management was impressed with the fact that ErectaStep products are constructed using ice- and rust-proof materials. This means the tread on each step and platform surface makes it ideal for any outdoor application. And every ErectaStep safety solution is completely OSHA-compliant, so Tony and the rest of the hospital's staff could rest easy knowing that their new access platform was crafted to satisfy the most stringent safety codes.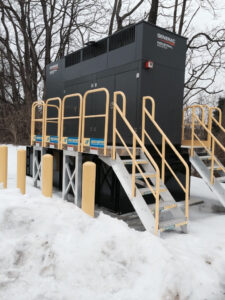 In addition to weather resistance and OSHA compliance, the ErectaStep safety system offered several benefits that were unavailable from any other product or provider. Tony and his staff were relieved to learn they could easily and quickly install their new ErectaStep solution, avoiding the steep price of a custom installation. In fact, the crew was able to finish the installation within 24 hours using little more than a wrench.
Ordering their new access platform was also quicker and simpler than Tony anticipated. All he had to do was make a phone call to get the process started. The knowledgeable representatives at ErectaStep were able to deliver a quote and a complete design within 24 hours. Once the hospital approved and placed its order, it was only a matter of days before the system was delivered.
When asked about his experience with ErectaStep, Tony stated, "The ErectaStep product is a piece of art. It works like a finely oiled machine. We have yet to encounter any difficulties, and with the quality of the material, I don't foresee us having any issues in the future. I would choose ErectaStep over any other product."
In fact, Tony and the hospital were so satisfied with their new safety solution that another ErectaStep stair system was included in their 2017 budget for a rooftop HVAC unit.
ErectaStep's infinitely reconfigurable safety solutions are in stock and ready to ship. Our innovative components and systems are precision-engineered, so you know that you are getting cutting-edge fall protection from an industry leader. Contact your ErectaStep representative today to learn more.